Ensemble Ballet Studio & The Royal Academy of Dance: A Partnership of Excellence
At Ensemble Ballet Studio, we are proud to collaborate with the Royal Academy of Dance (RAD), a global leader in dance education and training. RAD exams are renowned for their quality and rigour, setting a high standard in classical ballet that is recognised worldwide.
Every year, nearly a quarter of a million candidates across the globe choose RAD to mark their progress and achievements in dance. The recognition and respect garnered by RAD exams instil confidence in our students, affirming their efforts and inspiring them to reach higher levels of proficiency.
Embracing the RAD Syllabus
Our classes incorporate the current RAD syllabus, offering a structured and comprehensive ballet education that aligns with international standards. This syllabus has been carefully curated to encourage technical, musical, and performance skills in a progressive manner, ensuring each student grows holistically as a dancer.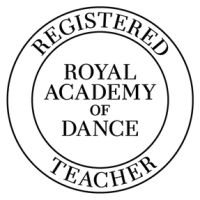 Leading our classes is Emilia Ragni, a Royal Academy of Dance Registered Teacher. As an RAD Registered Teacher, Emilia is committed to upholding the standards and philosophy of the RAD. She stays up-to-date with RAD training and syllabus materials, ensuring her teaching methods are current and effective.
Furthermore, Emilia engages in professional development with the RAD organization. This continuous learning process ensures that she acquires new teaching techniques, adjourning with Continuous Professional Development (CPD), gets updates on syllabus changes, and remains abreast of the latest trends and research in dance education.
Choosing Quality with Ensemble Ballet Studio
By choosing Ensemble Ballet Studio, you choose quality, dedication, and an unrivalled passion for ballet. With our association with the Royal Academy of Dance, our students receive an education in ballet that is recognised and esteemed worldwide.
Embark on a rewarding ballet journey with Ensemble Ballet Studio, where every pirouette brings you closer to excellence.