Silver Swans® Ballet Classes for Over 55s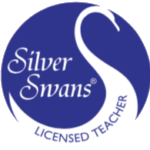 Silver swans ballet Classes
Package of 10 lessons 120£ (to be used per term) o individual class Pay as you Go at 14£
Silver Swans® Classes: Dance into Fitness and Grace at Any
Age Welcome to Ensemble Ballet Studio's Silver Swans® classes, a unique ballet program designed specifically for dance enthusiasts over the age of 55. If you're seeking a fun, engaging, and elegant way to stay fit and active, look no further!
A Ballet Class for Every Age
Our Silver Swans® classes are not bound by age limits. Instead, they are inspired by a love for dance and a desire for physical wellness. Whether you're in your golden years, or you're just seeking a new and elegant way to stay in shape, our classes have something exceptional to offer.
Beginners and Experienced Dancers Welcome
Never tried your hand – or rather, your feet – at ballet before? Or perhaps it's been some time since your last plié? No matter your experience level, our Silver Swans® classes cater to everyone. Our specially licensed instructors will guide you through each movement with utmost patience and care, ensuring a welcoming and enriching experience.
A Programme Rooted in Research
The Silver Swans® initiative was crafted by the Royal Academy of Dance (RAD), based on extensive research into dance practice for older learners. This ensures that the program is not only enjoyable but also beneficial for your physical and mental wellness. At Ensemble Ballet Studio, our Silver Swans® classes are taught only by licensed teachers, preserving the authenticity and integrity of the program.
Registration and More
Ready to put a spring in your step and embrace the joy of ballet? Register for our Silver Swans® classes here. Join us at Ensemble Ballet Studio and discover the timeless beauty of ballet. Let's twirl into wellness and enjoy the rhythm of life together. Remember, in ballet and in life, age is just a number!