Silver Swans® classes have been specifically designed for the over-55s, but whatever your age, if you are looking for a new way to keep fit and active, our ballet classes have something for you. Come along as Ensemble Ballet Studio Silver Swans® classes will put a spring in your step.
Whether you've never danced before or want to get back into the swing of it, Ensemble Ballet Studio Silver Swans® classes have something for everyone.
If you want to register for this course, please fill in the form here.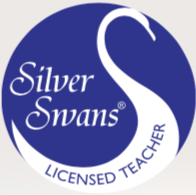 The RAD developed this programme based on research into dance practice for older learners – classes are only taught by Silver Swans licensed teachers.
My name is Janet and I'm 60 years old. I started to attend Ensemble Ballet Studio Swans Silver Classes 5 months ago. I love it and recommend to all those want to feel good both physically and spiritually.
Janet, 60 years old